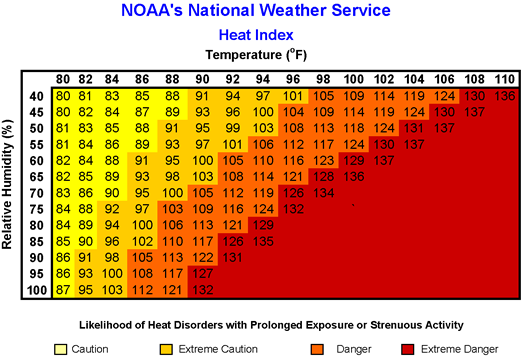 Excessive Heat
Extreme heat conditions (e.g., heat waves) can occur in most regions of the U.S. High temperatures combined with humidity can be extremely hazardous and can result in heat-related illnesses and even death.
The Heat Index Chart is used to help monitor extreme heat conditions. The heat index is the temperature the body feels when the effects of temperature and humidity are combined and indicates the likelihood for heat disorders, especially with prolonged exposure or strenuous activity. Heat advisories are initiated when the heat index is expected to exceed 105-110°F for at least two consecutive days.
Extreme heat and high humidity situations can be life threatening. Taking the necessary precautions can help to prevent this from occurring. Most cases of illness or death occur in individuals that have been overexposed to heat or have over-exercised for their age or physical condition.
Young children, the elderly, individuals with chronic illnesses or obesity are at highest risk, but even young and healthy individuals be affected if they participate in strenuous physical activities during hot weather without taking precautions. Animals can also suffer heat-related illnesses, which can also be life threatening.
The following resources will help you prepare your family, home and farm, animals and business for excessive heat situations.
Excessive Heat Preparedness Factsheets
Excessive Heat Web Resources
More Excessive Heat Factsheets