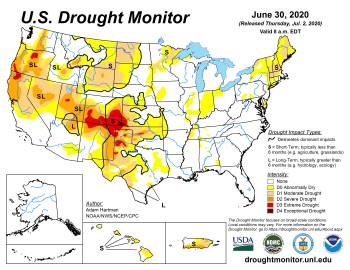 Map from the U.S. Drought Monitor, June 30, 2020. [yellow=abnormally dry, orange=severe drought, red=extreme drought]. Source:
http://droughtmonitor.unl.edu
Drought
All areas in the United States are at risk of drought. A prolonged drought can have a serious impact on agricultural communities, affecting crops, livestock, families and businesses. Families and businesses can be impacted by limited or restricted water sources during drought situations.
Decreased water supplies also result in the loss of crops and reduced forage growth and availability, impacting livestock. Plants can concentrate toxins under drought conditions, making them more lethal when ingested by livestock. Drought conditions can also increase the level of disease and insect infestations for plants and livestock. Dry conditions also lead to wind erosion of top soil and increased risk for fire hazards.
The following resources will help you prepare for and protect your family, farm, livestock and crops during drought situations.
Determine the Risk of Drought In Your Area
Learn About the Types of Droughts and Their Impact
Drought Preparedness Factsheets
• Drought and Your Home (PDF)
• Related resources for your home and drought
• Drought and Your Livestock (PDF)
•Related resources on livestock and drought

• Drought and Your Crops (PDF)
• Related resources on crops and drought

Excessive heat conditions accompany drought.
Find tips to keep safe during extreme heat situations.
Key Resources for Droughts
General Information about Droughts
Drought Assistance Programs