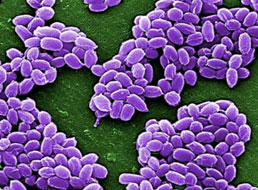 Anthrax spores.
Photo source: Centers for Disease Control and Prevention.
Bioterrorism Threats
Since September 11, 2001, our country has become more aware of the potential threat of terrorism in our country. Terrorism involves the use or threat of force or violence against people or property. This can include the use of chemical, explosive or radiological methods. Bioterrorism is the deliberate release of germs or other biological substances to cause illness, death, fear, social disruption and economic damage. When these actions are against agricultural commodities, such as livestock or crops, it is called agroterrorism. The result can include economic damage, loss of confidence in the food supply and possible loss of life. These attacks may be extremely difficult to detect initially as signs of illness may not occur for several hours or days.
Bioterrorism Preparedness Resources
Additional Web Resources