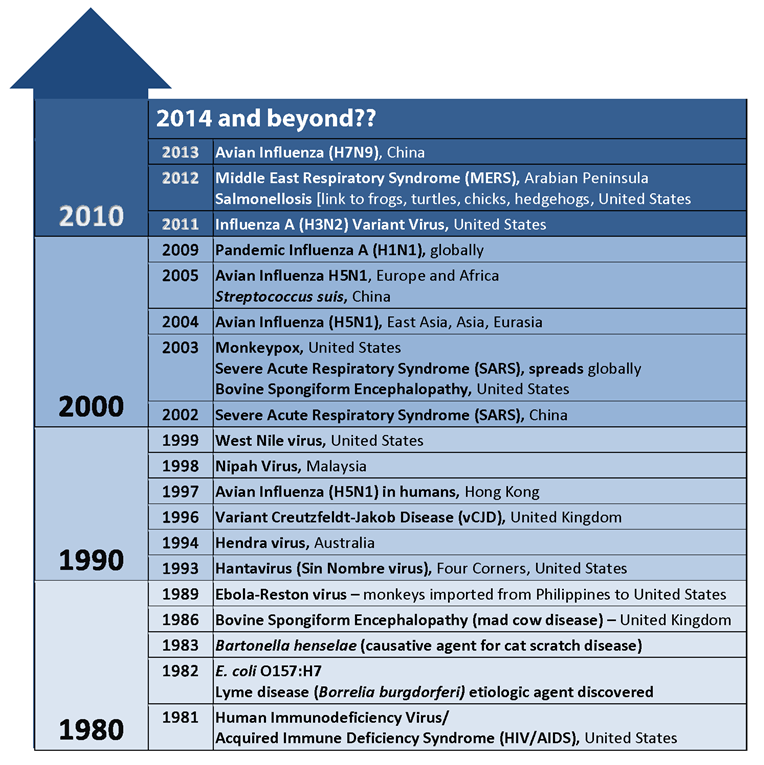 Timeline showing emerging and re-emerging diseases over the last 30 years. Source: Center for Food Security and Public Health, Iowa State University
Emerging and High Consequence Diseases
Emerging diseases can include any newly discovered pathogen, diseases that have spread to new or additional locations or different hosts, or that have increased in occurrence. One example was the introduction of West Nile virus into the United States in 1999 and its subsequent spread across the nation in the years to follow.
Many of the recent emerging diseases of humans are also considered zoonotic diseases – diseases of animals that can be transmitted to humans – increasing the potential risk for individuals in close contact with animals.
High consequence diseases are those that affect agricultural commodities, such as livestock, poultry or crops, resulting in severe economic impacts from production decline or loss, or possible restrictions or bans placed on the export of commodities.
Introduction of these diseases are naturally occurring (e.g., weather patterns, vectors, or wildlife) or accidental (e.g., import, human activities) but can be prevented in most cases by taking the proper precautions and preparedness actions.
Learn more about emerging and high consequence diseases of animals and crops, prevention measures, and how to protect your family, livestock and crops.
Emerging and High Consequence Diseases Preparedness Factsheets
Additional Web Resources