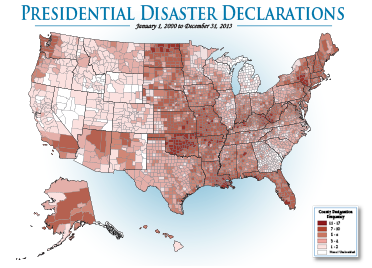 From 2000-2013, the U.S. experienced 849 federally declared natural disasters; the majority due to severe storms. Data source: Federal Emergency Management Agency (FEMA)
Natural Disasters
Natural disasters can include any number of weather related events and are often determined by geographical location. Fortunately, most natural disaster situations are predictable, allowing communities and individuals the opportunity to prepare prior to the event.
Preparing before a natural disaster can help to:
Minimize the impact on you and your family
Protect and preserve your home, farm and business
Protect the well-being of your pets and livestock
Natural Disaster Preparedness Resources
Find information and resources to help you prepare for natural disaster situations.
Additional Web Resources