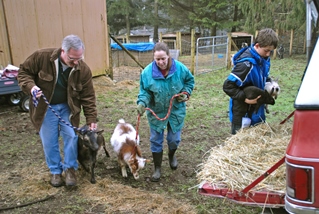 Photo Source: Marvin Nauman/Federal Emergency Management Agency (FEMA) Photo Library
General Preparedness
Rural communities are vulnerable to any number of hazardous or threatening situations. These can include incidents caused by natural disasters, biological emergencies or man-made or technological threats. The term "all-hazards" is used describe these possible situations that can impact you, your family, your home or farm, your business or your community.
The impact of any disaster or hazard on rural communities not only affects human life and property but can also cause devastating damage to the agricultural commodities – livestock, crops and businesses – associated with these areas. Additionally, in many of these small communities, emergency or response resources may be limited. In the event of a disaster or emergency situation, individuals, businesses or communities may need to be self-sufficient for awhile until further assistance from local, state or federal agencies can be obtained.
Preparing for "all-hazards" requires knowing your risks and developing emergency plans to use during and after the situation. These efforts will help to minimize the impact and to protect yourself for yourself, your family, your home or farm and business as well as your pets and livestock.
General Preparedness Factsheets