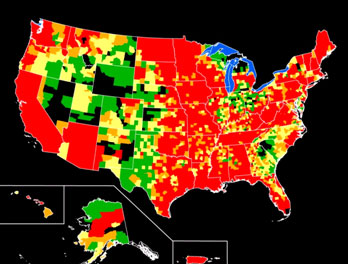 Presidential disaster declarations related to flooding in the United States (1965-2003). Green represent one declaration; yellow represent two declarations; orange represent three declarations; red represent four or more. (Source: USGS (
http://pubs.usgs.gov/fs/2006/3026/2006-3026.pdf
)
Floods
Floods are one of the leading causes of death from natural disasters in the United States.
Over 200 flood-related fatalities are reported each year with over half being vehicle-related when people try to drive through floodwaters. Floods can damage and devastate homes and farms, displace families as well as pets and livestock, damage crops, and disrupt agriculture processing and business.
Flood situations are variable and can occur as a result of spring snowmelt, severe thunderstorms, prolonged rains, inadequate drainage or failure of levees and dams. The impact can be local affecting a neighborhood or community, or very large, affecting entire river basins and multiple states. Some develop slowly – allowing time to prepare and evacuate – while others (e.g., flash floods) can develop quickly, even within minutes.
While flood situations cannot be entirely prevented, steps can be taken to prevent or minimize injury and loss and speed the recovery process. The following resources will help you prepare your family, home and farm, animals and business for flood situations.
Flood Preparedness Factsheets
Know the Terminology
Flood Watch: Conditions are favorable for flooding. Be Prepared!
Flood Warning: Flooding is imminent or already happening. Take Action!
Flash Flood Watch: Conditions are favorable for flash flooding - typically within 6-48 hours. Be Prepared!
Flash Flood Warning: Flash flooding is imminent or occurring. Move immediately to high ground. Take Action!
Determine the risk of flooding in your area.
Learn about Floods and Their Impact